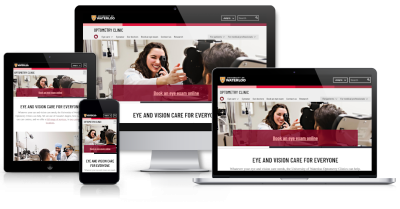 The University of Waterloo Optometry clinic is another example of a case where the department received permission to use a custom design. The Optometry clinic is a public-facing clinic, specializing in treating complex eye conditions. Their target audience is patients as well as doctors who may need to refer a patient to a specialized clinic.
Due to timing of the University's Drupal 8 update, we also received permission to develop the site completely outside of the University's Drupal platform. This gave us complete freedom to customize a solution to suit the client.
Designs were provided by the University's graphic design department. We extended those designs to respond to various device sizes and to accommodate additional page types.
The site is developed in Drupal 9, with Drupal's Layout Builder used to create intricate page layouts. Layout builder is implemented in a balanced way, where defaults are provided that editors can override and extend if needed.