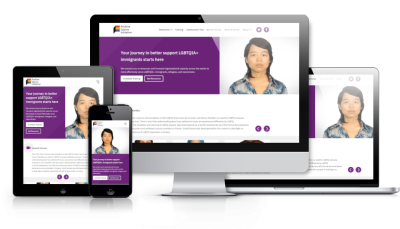 Positive Spaces is a special project from OCASI (Ontario Council of Agencies Serving Immigrants), with the goal of sharing resources and raising awareness of the LGBTQIA+ immigrants, refugees, and newcomers within the immgiraton services sector.
This project was completed on a tight budget. OCASI had a limited amount of funding available for the project, and we need to create a new design and upgrade the site to Drupal 8 without exceeding that amount. Woowlich Web Works worked with OCASI to develop a project plan that would do as much as we could within their budget.
We used a few strategies to maximize the return on investment. Firstly, a limited amount of design work was completed up-front. We created wireframes for key landing pages and content types, but only created mobile variants for some pages as needed. In the design stage, we only applied design to an even smaller set of key pages. This was enough to get approval from the client, with the design system completed during the development phase.
Instead of migrating content from Drupal 7 directly, we used a CSV import process. This was actually faster than writing a direct migration from a Drupal 7 database, and allowed the content team to clean up the content outside of Drupal before it was imported into the new site.