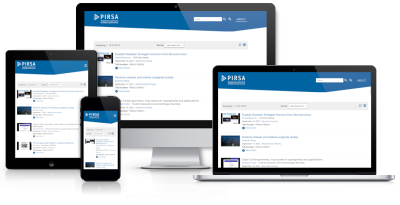 PIRSA is a searchable video archive of recorded lectures, seminars and conferences from Perimeter Institute (PI). Woolwich Web Works began collaborating with Perimeter Institute on design and development of PIRSA in 2019. Since then, we've worked with PI to continuously evolve and improve the platform by adding functionality and improving the design and user experience.
Behind the scenes, PIRSA is based on a Drupal distribution (Scitalk Distribution), that can be used to build similar video repositories. The Scitalk Distribution provides the content types, content feed import functionality, search index, front-end content displays and basic theming. PIRSA builds on the distribution by enhancing the them with Perimeter's branding and adjusting some functionality for its own unique use case
Also based on the Scitalk distribution is Scitalks - an archive of scientific talks from highly regarded institutions around the world.
Megan from Woolwich Web Works collaborated with PI's internal team to build the front-end displays and theme for the Scitalk Distribution, Scitalk, and PIRSA.